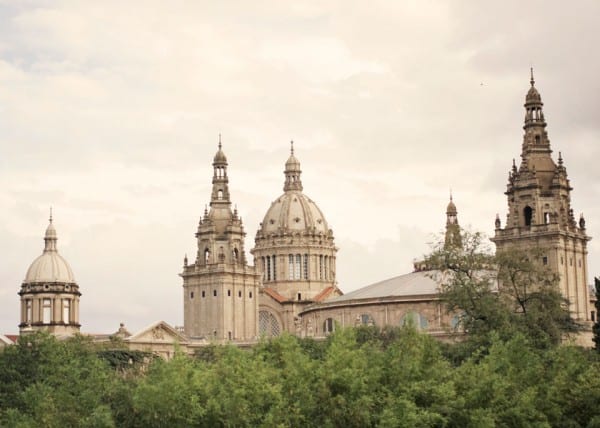 This past week has been absolutely crazy– I feel like I've done so much!
After turning in my final three essays, I rushed home to pack for a weekend in Barcelona with a couple of friends. We had an early start: 5 am at Central Station to catch the train. A train all the way to Barcelona, you say? If only it were that straightforward. No, we took a train to Brussels, a bus to Charleroi airport, a flight from Charleroi to El Prat, a bus from El Prat to the center of Barcelona, and a metro from the center to our hostel. Needless to say, we were glad to finally be in Barcelona!
After getting settled in our hostel, which was actually quite charming, if rather basic, we headed out to explore. Our hostel was quite close to Las Ramblas, one of the main boulevards of Barcelona. It had a great atmosphere, with street musicians, gelatto stalls, and paella restaurants scattered about the pedestrian walkway. It was so interesting being somewhere that was so active in the night– completely different from the Netherlands where everything seems to close at 6. The market adjacent to Las Ramblas was fabulous as well. We ended up coming back everyday for breakfast– at just a couple of euros it was quite a deal.

The highlight of day two was our trip to Guell Park– a massive park on the top of a mountain designed by Gaudi. We asked someone at the tourist information center how to get there and I think he must have been having an off day, or just really liked messing with tourists. He gave us directions that ended with us basically climbing up the mountain. I don't think I've ever walked up so many stairs in my life! Only when we left the park, through the main entrance no less, did we realize that there are way easier ways of getting to the park that don't involve a million stairs. Leaving the park was a gentle slope all the way down to the metro.
The park was worth the pain I felt the next day, though! From the peak, we got an amazing view of the Barcelona skyline, I only wish it had been a bit clearer. Aside from the natural beauty of the landscape, the park contained houses and buildings designed by Gaudi as well. While his aesthetic is not something I'd want to live in, it was still fascinating to see what came out of his mind.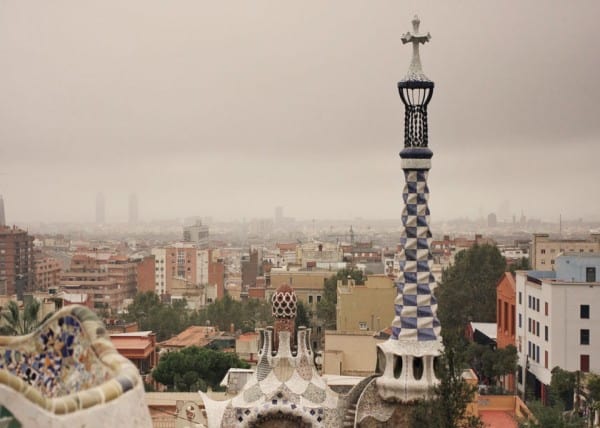 On my last day in Barcelona, I headed off to do a bus tour before I had to catch my flight home (I  still can't believe I'm calling Amsterdam home!). I did one of those hop-on hop-off busses that they seem to have in every city. I know they're rather cheesy, but it's great for getting an overview of the city when you don't have much time. And it was a double decker bus, so I got to sit up top and bask in the first sunshine I'd felt in weeks!
Unfortunately, I had to head back in order to give a class presentation on Monday, but there are more travels to come– I'm writing this on the train to Paris!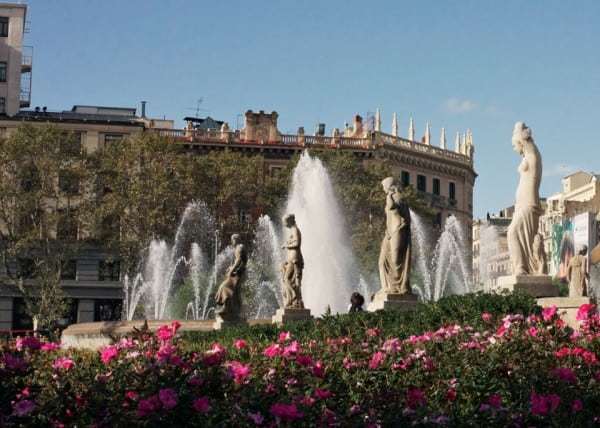 What to Do:
-Park Güell: Gaudi designed park at the top of El Carmel. Great scenery, amazing view, and fun architecture. Pack a lunch and have a picnic at the top!
-La Boqueria: Market located just off of Las Ramblas
-La Sagrada Familia: Gaudi's masterpiece of a church. It's still under construction, but the majority is completed. I decided not to go in, as I was short on time, but if you do decide to go inside, be sure to buy your ticket online first.
Where to Eat:
-Juicy Jones: Vegan restaurant with gluten free options! They serve smoothies all day, which are perfect for the warm weather in Barcelona. They also serve breakfast, sandwiches, and Indian food in the afternoon (which I highly recommend!). Located at Cardenal Casañas 7.
-La Boqueria: I highly recommend the fresh food at the market. Fruit is cheap, fresh, and delicious. There are also dried fruit, nuts, and even packaged salads and quinoa for picnics!
Where to Stay:
-Barcelona 4 Fun Hostel: Nice, basic hostel right off Las Ramblas. Very clean and friendly staff. Towels are not included, but you can rent them for an extra 4 euros. Be aware that it's a bit hard to find, as there's no signage outside. The office is up on the third floor.